ABOUT
Hawaii's #1 Source for Original Equipment Auto Parts
Employee-Owned and Operated, Est. 1986
Our Story
Tetsuji Ideta owned a small auto parts store called Delta Auto Parts in the 1960s (see image below).
In 1986, Tetsuji Ideta, Melvin Sasaki, and a handful of other automotive industry veterans came together to start Pacific Jobbers Warehouse on Kahai Street in Kalihi Kai. Melvin came from an auto parts warehouse distributor called Automotive Service. The other original investors came from the auto repair, tool sales, and wholesale auto parts industries. They all saw a need in the industry and started with one brand, Bendix brakes. They focused on customer service from day one and steadily grew the business.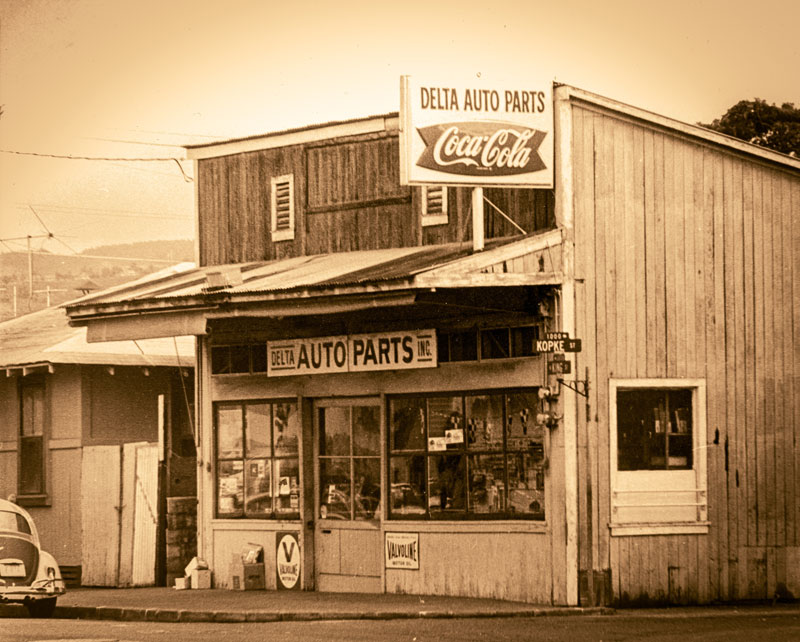 From one brand of auto parts and four employees in 1986, Pacific Jobbers Warehouse has grown to over 80 employees with more than 90 brands of products. In 2011, Pacific Jobbers Warehouse expanded its service and merged with Aloha Otto Parts in Kahului, Maui, which was renamed Maui Auto Parts.
Today, Pacific Jobbers Warehouse and Maui Auto Parts strive to lead the industry in customer service by providing our partners with the most knowledgeable auto parts experts, the most consistent delivery service, and the best selection of original equipment manufacturer and aftermarket auto parts. Pacific Jobbers is one of a few privileged auto parts distributors in the nation to sell AC Delco, Motorcraft, Mopar, Denso, NGK, Aisin, Advics, Akebono, Bosch and a multitude of the other top OEM brands.
Auto parts knowledge is a core principle at Pacific Jobbers Warehouse with six counter salespeople that have a combined 200 years of auto parts experience to help professional technicians find the right parts. Another core principle is consistent delivery service which is accomplished with 25 delivery vehicles that are constantly on the move fulfilling orders and taking care of our auto service industry partners. Pacific Jobbers Warehouse and Maui Auto Parts are the only home grown, employee-owned auto parts provider in Hawaii. Since 1986, customer service has always been a top priority which has made us a leader in the automotive industry and the preferred auto parts supplier by professional technicians.
Hours
Monday – Friday
7:30 am – 4:00 pm
Saturday
8:00 am – 12:30 pm